When the short day is brightest, with frost and fire, the brief sun flames the ice…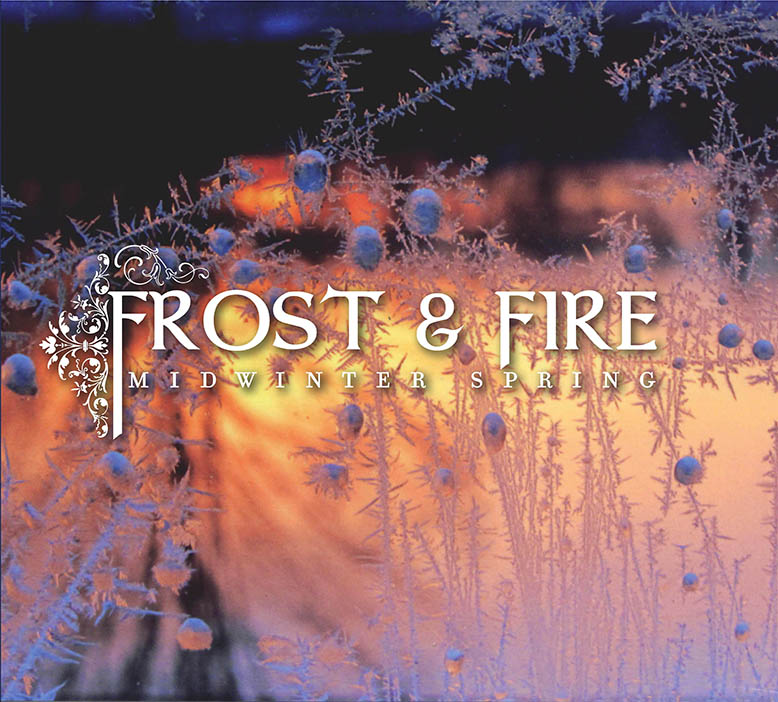 Midwinter Spring
is the debut album from Vermont-based band Frost and Fire, featuring a blend of new and traditional Celtic music that will keep you tapping your toes all season long. You'll hear music for contra dances and waltzes, songs by Robert Burns and Stephen Foster, and a host of tunes by Viveka, Peter, Hollis, and Aaron—many of them never previously recorded.
The music ranges from stately and elegant to wild and energetic, always with a variety of texture and instrumentation that helps shape a musical experience you won't want to miss.
You'll hear…
Aaron Marcus: piano, concertina, banjo, foot percussion, backing vocals
Hollis Easter: flute, Scottish border pipes, whistle, guitar, lead vocals
Peter Macfarlane: fiddle, low whistle, backing vocals
Viveka Fox: fiddle, bodhran, djembe
Read the full liner notes for more information about the histories of the tunes and songs we chose. Nearly three-quarters of the music on this album was written by Frost and Fire.
Buy it!
Midwinter Spring costs $15. Shipping and handling is $4 for the US. Please email us for information about international orders.

If you'd like us to autograph your CD(s), please let us know and we'll get out the silver pens!
Why "Midwinter Spring"?
Midwinter Spring, like Frost and Fire, takes its name from T. S. Eliot's poem "Little Gidding":
Midwinter spring is its own season
Sempiternal though sodden towards sundown,
Suspended in time, between pole and tropic.
When the short day is brightest, with frost and fire,
The brief sun flames the ice, on pond and ditches,
In windless cold that is the heart's heat,
Reflecting in a watery mirror
A glare that is blindness in the early afternoon.
And glow more intense than blaze of branch, or brazier,
Stirs the dumb spirit: no wind, but pentecostal fire
In the dark time of the year. Between melting and freezing
The soul's sap quivers.