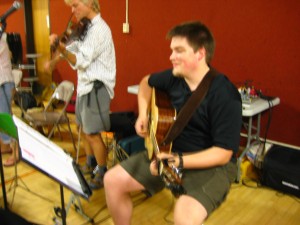 We would love to play for you! Whether it's playing for a wedding, keeping the dancers hopping at a packed contra dance, or creating beautiful moments for spell-bound concert audiences, we have a great time and we're sure you will too!
We're based near Burlington, VT, but we gladly travel for the right gigs. We're attracted by energetic dancers, beautiful scenery, gorgeous well-tuned pianos, farmers' markets, old village halls with great acoustics, festivals thrumming with wild energy, young dancers, old dancers, new dancers, great stories, and really good hummus.
"Frost and Fire is a band for getting your dance on!" – Alison Nihart
"These guys are inspired! They feature fine fiddling, fluting and tasteful piano and foot-taps to back it all up. And then when the pipes come out, what a blast of sound! Frost and Fire is on the rise!" – Matt Witten
"As a dance promoter, I find Peter, Viveka, Aaron, and Hollis astonishingly easy to work with. They never complain, no matter how difficult a program I set for them. They provide guidance and assistance whenever I ask but don't force it on me. They energetically carry out every gig, from beginning to end. They are, in short, a sheer pleasure to work with." – Gary Apfel
We like to play for:
Contra dances
Scottish country dances
English country dances
Weddings
Ceilidhs and ceilidh dances
Festivals
Formal dance balls
Dance camps and weekends
Concerts
Other fun events
We are happy to provide our own sound equipment and run our own board; we're also content to work with you on the sound.
Thanks for your interest, and we look forward to hearing from you!
We're happy to provide references if you need them. Some of the performances we've given include:
Dances:
Amherst, MA: Downtown contra (2013)
Burlington, VT: First Night contra (2012/13, 2013/14)
Burlington, VT: Queen City contra (2011, 2012, 2012, 2013, 2013)
Colchester, VT: English country dance (2011, 2012, 2012)
Concord, MA: Scout House contra (2013)
East Corinth, VT: Scottish and English country dance (2011, 2013)
Greenfield, MA: Will Loving's Caller Fest (2013)
Jamaica Plain, MA: 25th Annual Gender Free Contra Celebration (2013)
Jericho, VT: Contra dance (2014)
Melrose, MA: Royal Scottish Country Dance Society Highland Ball (2015)
Montague, MA: Gender-Free contra (2011)
Montpelier, VT: Capital City Grange contra (2012, 2013, 2014)
Montpelier, VT: Scottish Country Dance ball (2013)
Montreal, QC: Sunday contra (2012, 2013, 2015)
Ottawa, ON: Contra and dance workshop (2012, 2013, 2015)
Peterborough, NH: Snow Ball (2015)
Ripton, VT: Contra dance (2013)
Rochester, VT: Pierce Hall contra (2011)
Stowe, VT: Contra dance (2014)
Festivals:
Aptos, CA: Queer Contra Dance Camp (2015) dances
Atlanta, GA: Catapult! National Contra Dance Showcase (2014) dances
Burlington, VT: Champlain Valley Folk Festival (2013) concert and dances
Essex, VT: Vermont International Festival (2012) concert and dances
Quechee, VT: Quechee Highland Games (2012, 2013, 2014) concerts
Concerts:
Brandon, VT: concert series (2014)
Ferrisburgh, VT: Kingsland Bay Farmers' Aid Concert (2011)
Ferrisburgh, VT: Rokeby House (2012)
Lexington, MA: Brookhaven (2013)
Montague, MA: house concert (2013)
Montpelier, VT: house concert (2015)
Ripton, VT: Ripton Community Church (2012)