When the short day is brightest, with frost and fire, the brief sun flames the ice…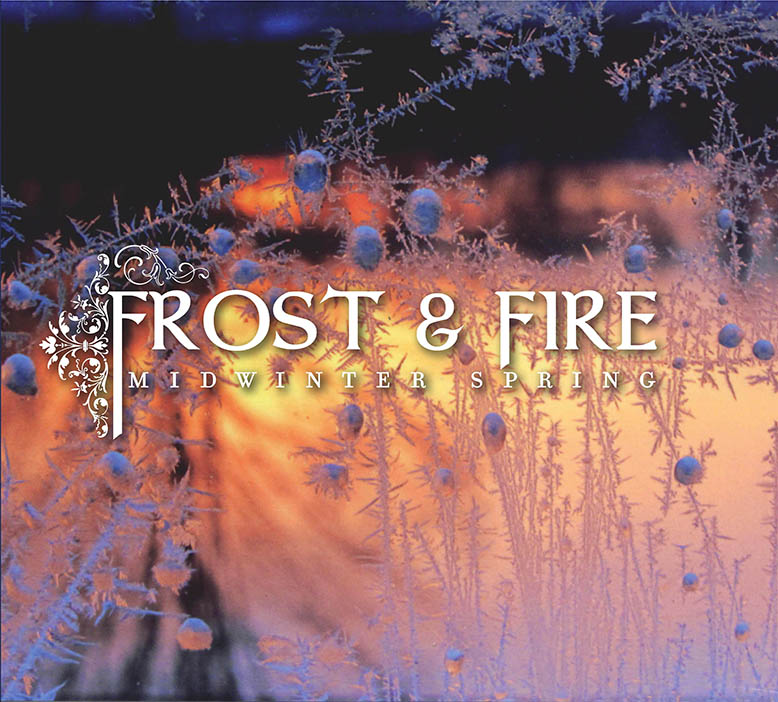 Midwinter Spring
is the debut album from Vermont-based band Frost and Fire, featuring a blend of new and traditional Celtic music that will keep you tapping your toes all season long. You'll hear music for contra dances and waltzes, songs by Robert Burns and Stephen Foster, and a host of tunes by Viveka, Peter, Hollis, and Aaron—many of them never previously recorded.
The music ranges from stately and elegant to wild and energetic, always with a variety of texture and instrumentation that helps shape a musical experience you won't want to miss.
You'll hear…
Aaron Marcus: piano, concertina, banjo, foot percussion, backing vocals
Hollis Easter: flute, Scottish border pipes, whistle, guitar, lead vocals
Peter Macfarlane: fiddle, low whistle, backing vocals
Viveka Fox: fiddle, bodhran, djembe
Anemone / Down the Broom / Macklimoyle's
Contra dance reels that are favorites of dancers everywhere we play.

Caald Nights o' Winter / Scalloway Lasses / Glen Where the Deer Is
Three wee reels from Scotland featuring the finest of grooves.

Gentle Annie
A classic from the American tradition by Stephen Foster.

Tendrils / Snake Mountain Gathering I / Tendrils
Three tunes by Peter: a slinky jig, a driving reel, and then a rollicking reel-ified version of Tendrils.

Miss Jasmine Walker
We've closed many fine dances with this sweet waltz by Hollis.

Wyoming / Liz and Adam's
Aaron wrote Wyoming after a year spent as a field botanist there. It's our most-requested song.

Glenuig Rant / Trip to Reigate / John Keith Laing
Driving reels by Peter with a rocking pipe tune at the end.

Bobbing for Brandywines / Road to Adamant / Marche à Julia
Contra dancers love to hoot and stomp their feet to this set of reels.

Ae Fond Kiss
The classic Robert Burns song of wistful farewell.

Tabitha's Rambles / All Hallows' Eve
Two tunes by Hollis, one for his kitten's explorations, the other for a spooky Halloween.

Ravencroft
Aaron's funky 10/8 tune honoring friends who lent us their home, Ravencroft, for our earliest rehearsals.

My Darling So Far Away
Aaron wrote this song of remembrance for loved ones we wish were closer.

Rebecca and Irvin's / Bobcat Strut
Sweet and flowing march meets groovy struttin' tune in a set inspired by English Country Dance.

Nuptial Knot / Deep Freeze
A grand old Scottish fiddle tune meets a fiery new reel by Viveka in this rousing closing set.

Recording Software Blues (online bonus track!)
Hollis improvised the lyric for this Broadway-show-tune-meets-blues-meets-Celtic lament when the recording software, Capture, glitched and lost yet another great take. Unbeknownst to him, Capture was listening to the improv session, and we got to keep it! This track isn't on the album, but we thought you might enjoy it.

Read the full liner notes for more information about the histories of the tunes and songs we chose. Nearly three-quarters of the music on this album was written by Frost and Fire.
Buy it!
Midwinter Spring costs $15. Shipping and handling is $4 for the US. Please email us for information about international orders.

You'll get your CD fastest if you buy online, but you can also send us a check at
Frost and Fire, PO Box 69, Potsdam NY  13676-0069
. Please make the check payable to
Hollis Easter
and make sure you include your return address.
If you'd like us to autograph your CD(s), please let us know and we'll get out the silver pens!
Why "Midwinter Spring"?
Midwinter Spring, like Frost and Fire, takes its name from T. S. Eliot's poem "Little Gidding":
Midwinter spring is its own season
Sempiternal though sodden towards sundown,
Suspended in time, between pole and tropic.
When the short day is brightest, with frost and fire,
The brief sun flames the ice, on pond and ditches,
In windless cold that is the heart's heat,
Reflecting in a watery mirror
A glare that is blindness in the early afternoon.
And glow more intense than blaze of branch, or brazier,
Stirs the dumb spirit: no wind, but pentecostal fire
In the dark time of the year. Between melting and freezing
The soul's sap quivers.